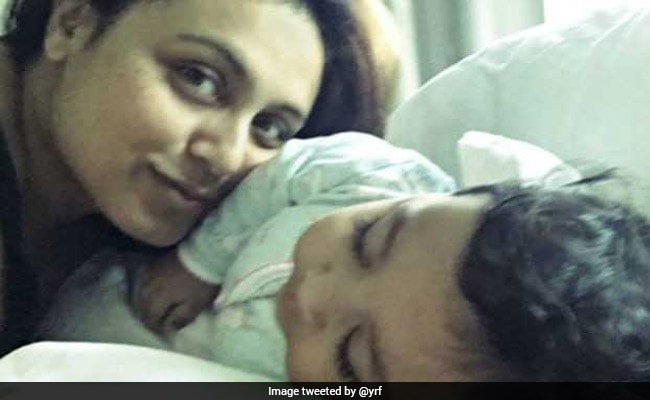 Rani Mukerji opened up about her experience of bringing up her daughter – two-year-old Adira – and addressed the changes one undergoes with new found motherhood. "With a child we undergo a huge transformation," she told news agency IANS. The 40-year-old actor, who made a comeback with recent release Hichki – her first movie after Adira was born – revealed that baby Adira is getting accustomed to Rani's busy schedule as an actress. "She is a very playful child and stays without me when I am working. She is a happy baby. She has begun to understand that I go for work," IANS quoted Rani Mukerji as saying.
"I wanted to teach her for a certain time I will go out for work. She should have the security that I will come back," she added.
When asked about how life has changed after Adira was born, Rani said: "I felt what true love is. That happens with motherhood. Till I had my child, I did not realise how I can love someone more than myself. At the same time, a few months ago I lost my father. So I know what extreme pain feels like." Rani also added that: "As an actress, I channelise all my emotions and energy into my work. I feel the vacuum of my father, but instead of crying and brooding over it, I channelise the emotions."
In a previous interview to PTI in January, Rani confessed she used to contemplate her decision to leave Adira ta home for work: "I had this anxiety about leaving my daughter at home because it was going to be a new environment for her. She is not going to see me for a few hours, which she is used to. It is a dilemma that every working mother goes through where you face this anxiety," PTI quoted her as saying. "I am sure Adira will understand that both her parents leave home for work. It will be normal and it will be something that she will be proud of," she had added.
Rani Mukerji and husband Yash Raj boss Aditya Chopra have fiercely shielded Adira from the paparazzi ever since she was born in 2015. In a Facebook chat on her 39th birthday in March this year, Rani revealed that her husband – who is almost never photographed himself – is not in favour of Adira's photos being made public.
Rani Mukerji, who was last seen in Hichki, recently revealed that she will not take long to announce her next project. She plays a teacher suffering with Tourette Syndrome in Hichki, which has collected over Rs. 30 crores at the box office.